Designer Outlet Roermond – € 19
Have a shopping spree in Designer Outlet Roermond and enjoy a special discount.
What's included
Voucher 10% discount
E-ticket (train) day return to from any station in the Netherlands to Roermond.
---
Designer Outlet Roermond
Roermond has a beautiful historical center with charming squares and bustling terraces. It also boasts the biggest outlet center in the Benelux and Germany! Designer Outlet Roermond offers the ultimate shopping experience. Stroll along the stylish boulevards of this Roermond outlet and discover fashion and lifestyle items from more than 250 designer brands.
Discount at Designer Outlet Roermond!
Designer Outlet Roermond is just a five-minute walk from the city's center that is rich in cultural history. After you arrive at the NS station, walk through the streets in front and you'll soon find the VVV tourist office. Here you can pick up a flyer for the Roermond outlet. Show this flyer at the information desk of the Designer Outlet. You will then get a Fashion Passport for an extra 10% discount at five of its 200 stores.
Something for everyone
Shop in the relaxed ambiance of this little piece of retail heaven. The Designer Outlet Roermond has everything; from beachwear to beauty, lingerie to sports and homeware to childrenswear. There is something for everyone. And don't forget to accessorize! If you need a break, enjoy coffee and cake, a light bite for lunch or a relaxing dinner at one of the 25 restaurants at outlet Roermond. This really is the place to shop till you drop!
Atmospheric center
Alternatively, you can stroll back to Roermond's historical center. Nestling under the towers of St. Christopher Cathedral and Munster Church are attractive squares with cozy terraces. There is a wide selection of cafés, bars and restaurants to choose from. Take an evening stroll along the river bank and down by the quayside to round off your day in a romantic way. If you have time to explore the area, you'll discover that Roermond is situated at the edge of the lake district, the Maasplassen. A string of lakes offers options for watersports, swimming, hiking and cycling or just strolling. Whichever you do, you can do it wearing the new outfit you bought at Designer Outlet Roermond!
---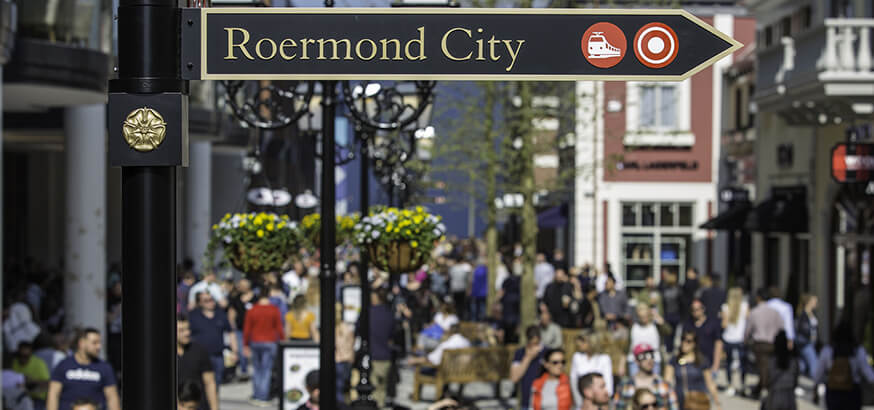 ---
Special terms and conditions
Special offer is available until January 31, 2021.
E-tickets for Designer Outlet Roermond are valid until January 31, 2021.
Promotion includes a day return e-ticket to Roermond.
Valid from 9:00 a.m. Monday through Friday; all day Saturday and Sunday. Not valid on King's Day, April 27.
Valid on NS, Arriva, Breng, Connexxion, Veolia and Syntus trains and buses.
Not valid on Thalys train Amsterdam-Paris, not valid on Eurostar, valid with an Intercity Direct supplement between Schiphol and Rotterdam & ICE International.
Tickets cannot be combined with any other offers or discounts. No refunds.
---
Useful information
Address:
Stadsweide 2 6041 TD Roermond
Opening hours:
Designer Outlet Roermond is open monday to friday between 10:00 am and 8:00 pm Saturday and Sunday 09:00am and 8:00 pm
Location:
Roermond
More details: